Well never made a project thread so thought id get started now its getting interesting :laugh:
my cooper was just a poverty spec with no air con, no traction control and had no chilli pack but just loved the the look, since owning it its been all about looks as there wasnt much point in modifying the cooper engine with the midlands box, i have spent alot but done everything myself keeping prices down
day i picked it up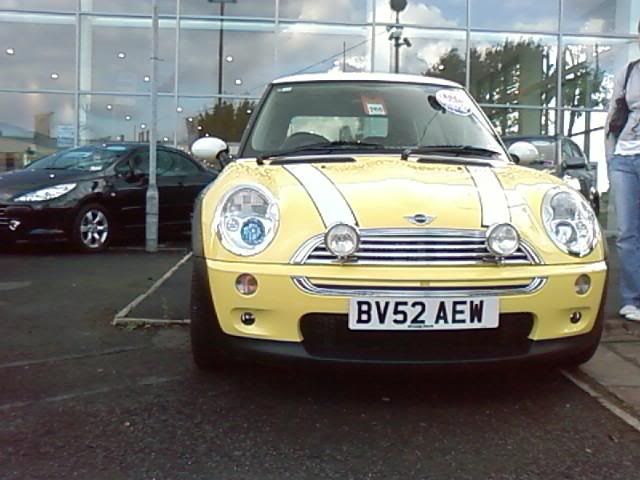 first mods were eibach 30mm lowering springs, tinted windows, jcw filter and a miltek cat-back! so looked like this...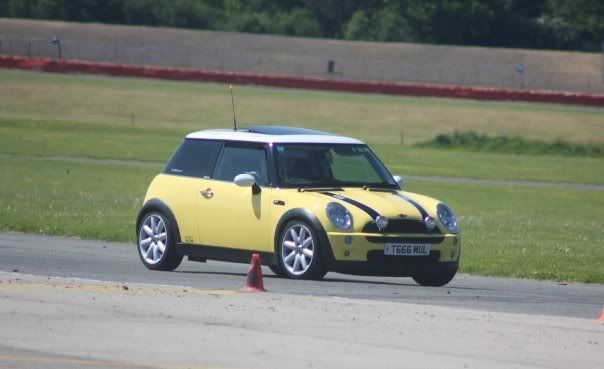 after having the bonnet vandalised i fitted a cooper s bonnet and sprayed the wheels white :lol:
shortly after the bonnet was sprayed yellow and the wheels were binned for some TD 1.2s with an AP bbk behind them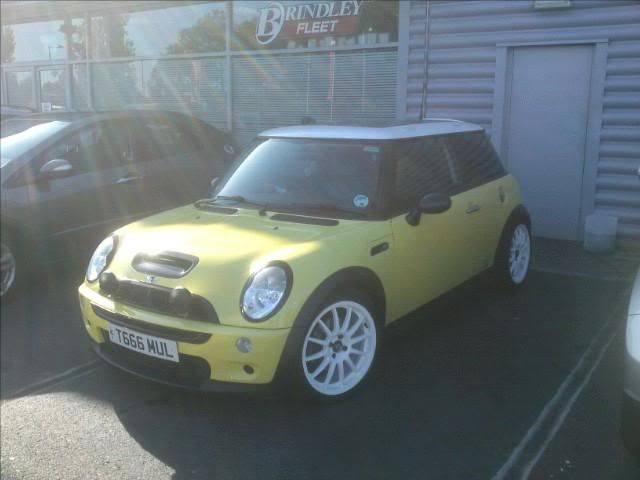 at this point it looked how i want it and now i want power!!
instead of spending time stripping mine down to standard changing my AP brakes, coilies, wheels, manifold, carbon fibre bits, sorting out selling mine and buying a cooper s which im going to have to spend a grand more to get a decent one im putting a cooper s lump in mine which is alot of work but hopefully will be worth it:thumbup:
the bits i brought were:
ENGINE
FULL SUPERCHARGER
6 SPEED GEAR BOX
ALTERNATOR
STARTER MOTOR
ENGINE LOOM
2 DRIVE SHAFTS
ENGINE MOUNTS
EWS IGNITION BARREL & KEY
ENGINE MANAGEMENT
WATER RADIATOR & FAN
FUEL PUMP.
all this got delivered and i was like kid in a sweet shop untill i noticed the casting on the 6 speed gearbox was cracked underneath :cursing: after ringing the breakers up they agreed to send me another gearbox and chuck me a front slam panel in as compensation :tongue_smilie: so was happy with that!!
the engine has done 55k and after removing the rocker cover couldnt believe how clean the engine oil, rocker arms and the head casting was looked like new :thumbup:
booked the week off work and with some persuading i got my manager to let me use a ramp at work so i started on the monday whipping the cooper lump out, 10 am the car was like this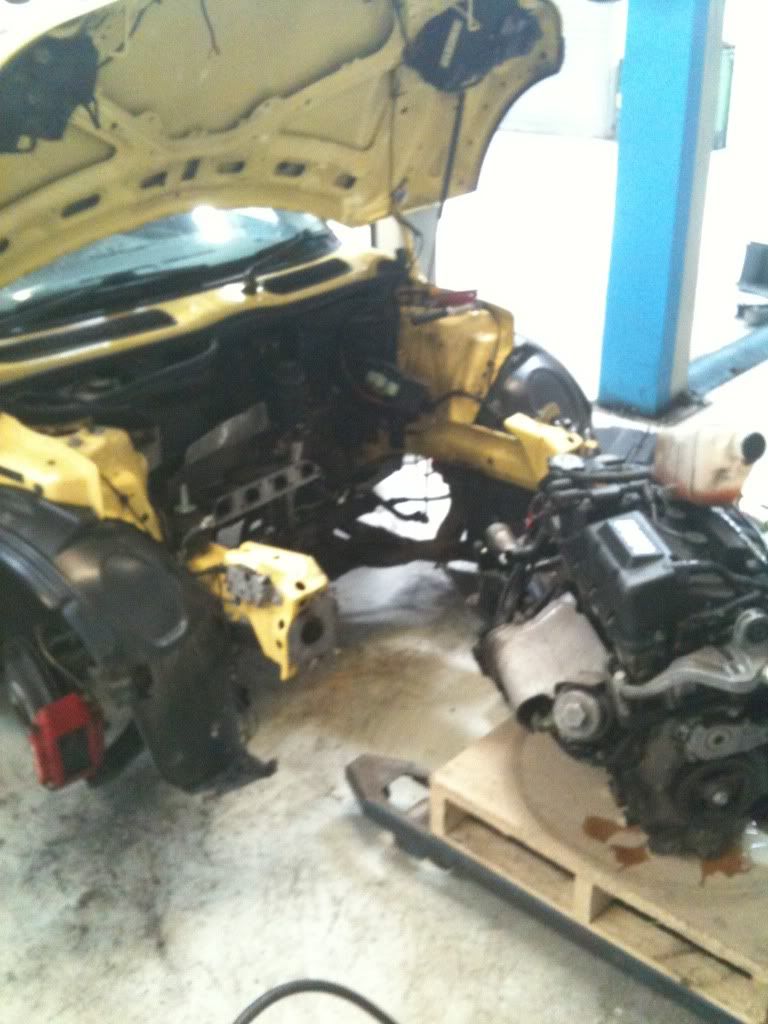 and in with the S engine and gearbox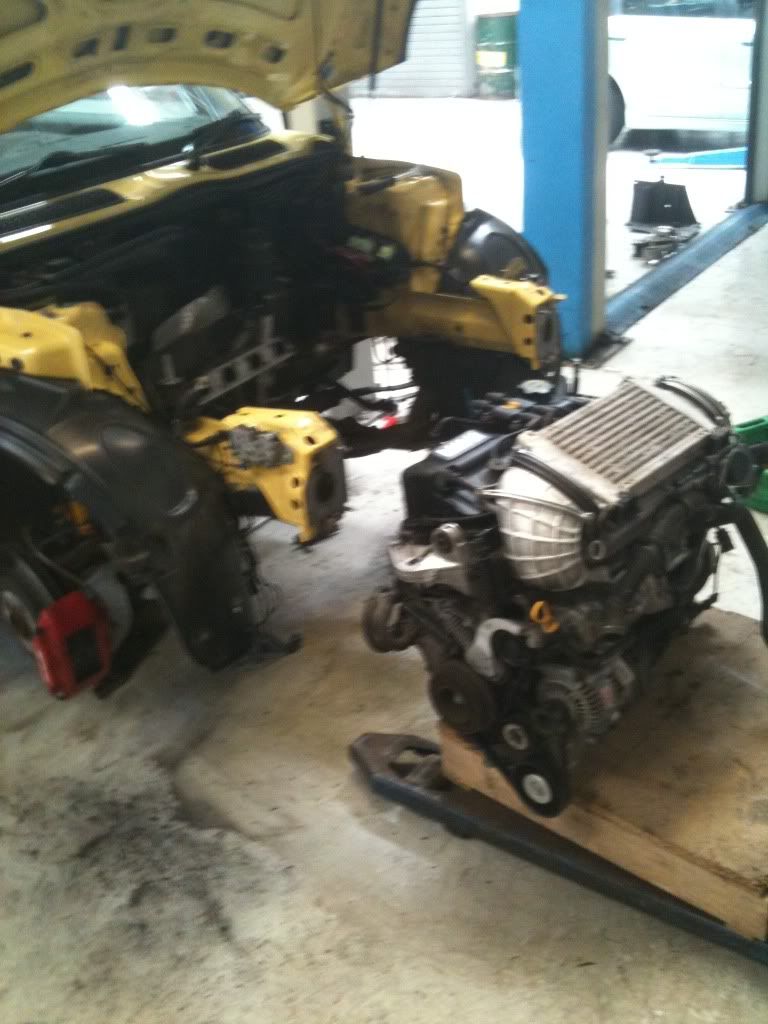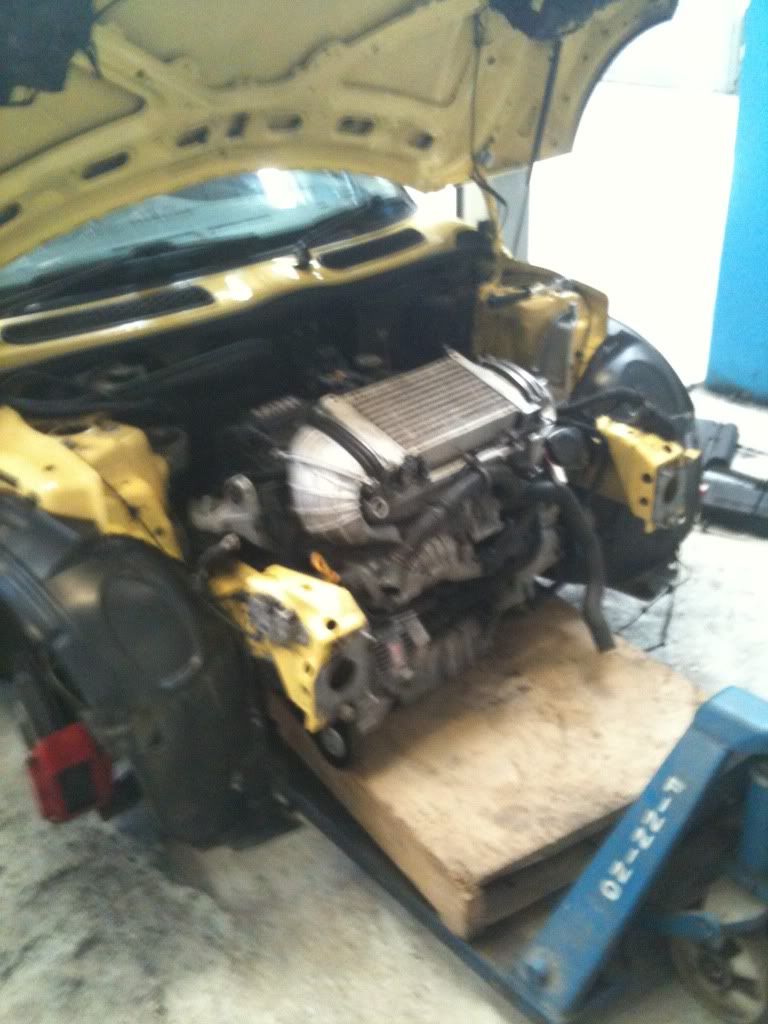 the car was up and running but as it was late i left the car till the following day to make sure everything was good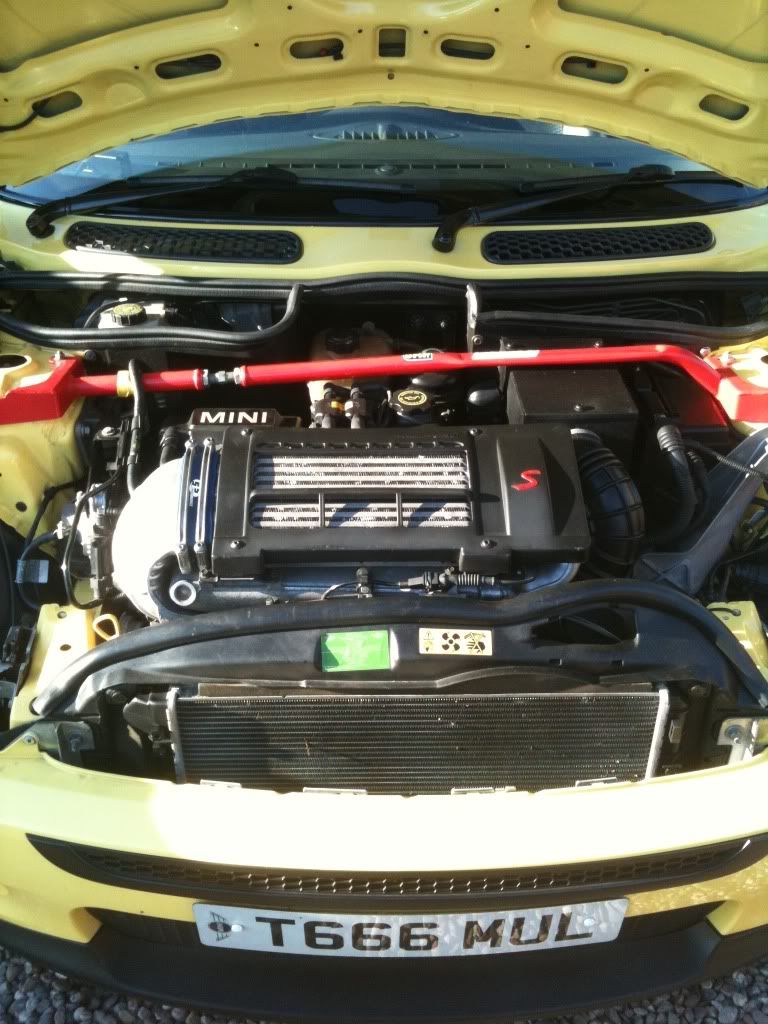 the car drove so well with no probs and the power is awesome
a few months after the GRS intercooler went on along with a 17% kavs pulley making 210bhp on the evolve dyno, and after going santa pod the car set a very respectable 14.5 quarter mile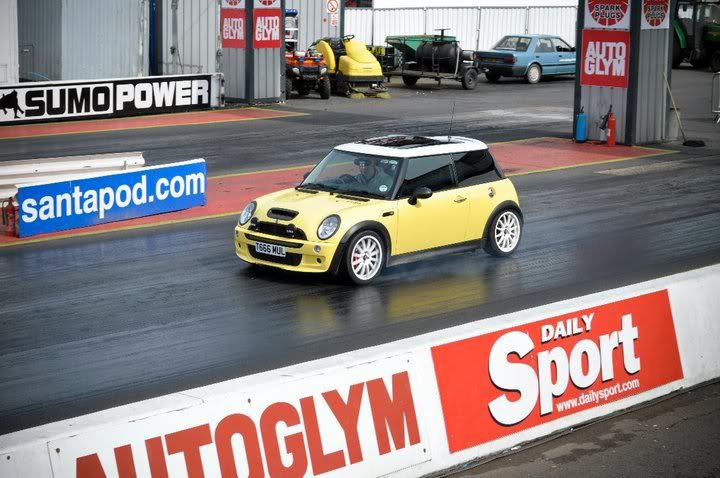 shortly after, modern mini magazine organized a photoshoot and the car had a 5 page feature in the mag which i was really happy with
and i was voted best cooper by the readers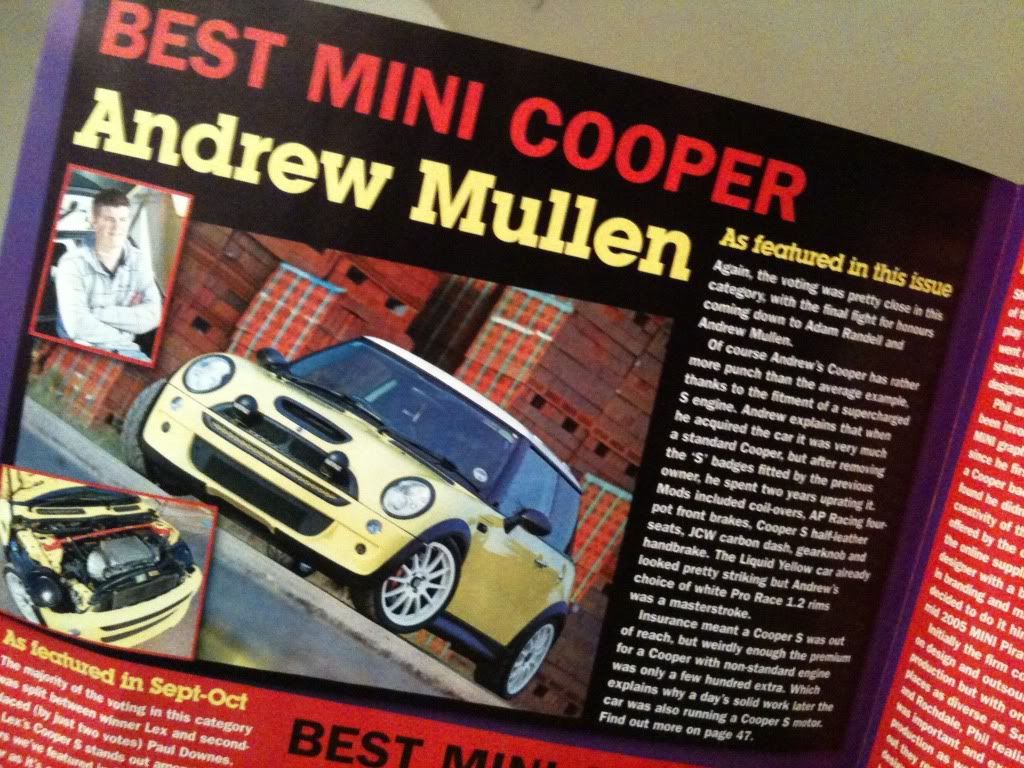 the plans for 2011 include more power and an aggressive new look with black being the new 2nd colour and a GP
spoiler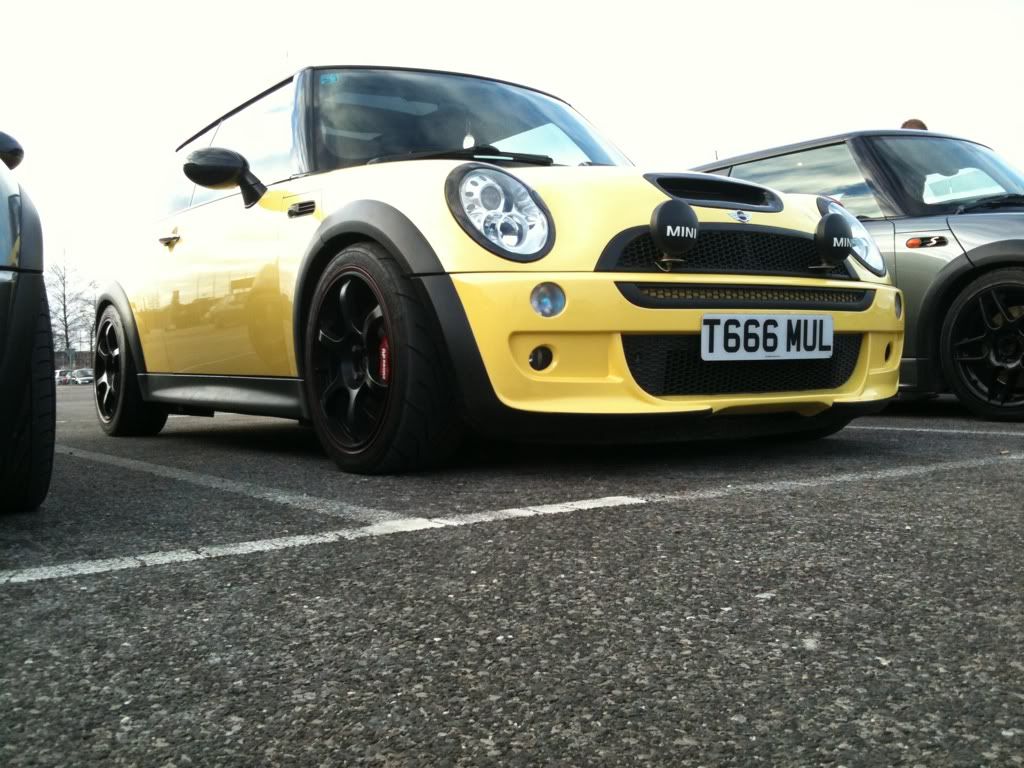 exact spec:
2002 cooper r50
engine:
2003 cooper s engine
2007 r53 convertible ECU
2005 facelift gearbox
Kavs 17% pulley
GRS front mounted intercooler
Heat wrapped janspeed manifold
Cooper miltek cat back
To do:
newman cam
550cc injectors
1320 mynes tune
exterior:
JCW front bumper
JCW rear bumper
cooper s sideskirts
cooper s fuel flap
cooper s bonnet
JCW carbon bonnet scoop
JCW carbon mirror caps
carbon fibre light rings
facelift headlights
facelift rear lights
tinted windows
dechromed beltline
colour coded boot handle
JCW aero sideskirts
Black roof
GP spoiler
Brake ducts
interior:
JCM corbeau bucket seats
sparco harness'
rear seats removed
JCW carbon dash
JCW carbon gearknob
JCW carbon handbrake
prosport boost and oil pressure gauge
scangauge
JCW shiftlight
glovebox retrofit
battery relocated in boot
Underneath:
Spax RSX coilovers
powerflex bottom arm bushes
AP racing BBK 304mm
SS+ anti roll bars
Powerflex anti roll bar bushes
To do:
rear control arms
wheels+tyres:
Rota boosts 17x7.5
Toyo r888 tyres 205 40 17 for track
215 40 17 paradas for road