Look familiar?
Quite a common occurance is the bulb holders becoming very hard to remove from the assembly. As a result of this, I managed to snap the fog lamp bulb holder in half whilst trying to turn the holder to remove the lamp :cursing:
If you have the same condensation build up, there's a high probability that your lamp holders will too be very hard to remove.
The only real remedy is to purchase new fog/side light assemblies and lamps.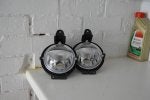 To swap over the assemblies, you'll need T15 and T25 Torx screwdrivers, a flatblade screwdriver, and a pozi screwdriver
First off, loosen off your wheel bolts.
Then jack the car up, and support it with an axle stand.
Now remove your wheel.
You should end up looking at this
Remove the large cover, and the screws holding the arch liner in. Then pull the liner back.
Unplug both the fog light and side light bulb holders from the wiring loom.
You'll need the T25 Torx screwdriver here to remove the 2 torx screws holding in the washer bottle.
Pop the bonnet and pull out the plastic clip shown just to the right of the washer bottle cap.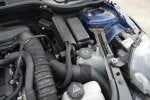 The washer bottle will now be able to move around enough to allow you to gain access to the T15 screws that hold the fog/side light assembly to the lower bumper. There are 3 screws to remove, 1 upper, and 2 lower. You will need a long T15 Torx screwdriver, or an extender to reach the top screw.
As the washer bottle is now loose, you can manipulate it enough out of the way to get the assembly out past it.