Please post all links to yours or other after market FMICs for the R56. They can be for the one, cooper, cooper S or JCW. Data
MUST
be provided so that we can create a section for people to easily understand what is on offer and what gains are to be had from them.
I will be updating this first post to make it easier for people to see what is out there every time someone posts more data.
ALTA FMIC:
Available in both silver and black.
Ambient Temperature 70ºF
Temp in 280ºF
Temp Out 105ºF
Intercooler Efficiency 83% (OEM= 53%)
Pressure Drop ALTA 1.5psi vs OEM 2.0psi
OEM Core Size 21.3" x 3.25" x 2.5"
ALTA Core Size 23" x 8.76" x 1.75" (215% bigger)
Evolve V2 FMIC:
Available in both silver or black.
Forge FMIC:
For the 2007 onwards models* (R56/R57) BMW Mini Cooper S Turbo we have developed a more efficient intercooler. As a reduction in intake air temperature increases the density of the charge mixture within the combustion cylinder any temperature reductions will equate to more power. This intercooler is constructed using a combined 80/40mm high thermal efficiency core, with a 250% larger surface area and a 125% thicker base core, to achieve the best possible results.
Helix Motorsports FMIC:
TyrolSport FMIC:
Wagner Pre & Post Facelift FMIC: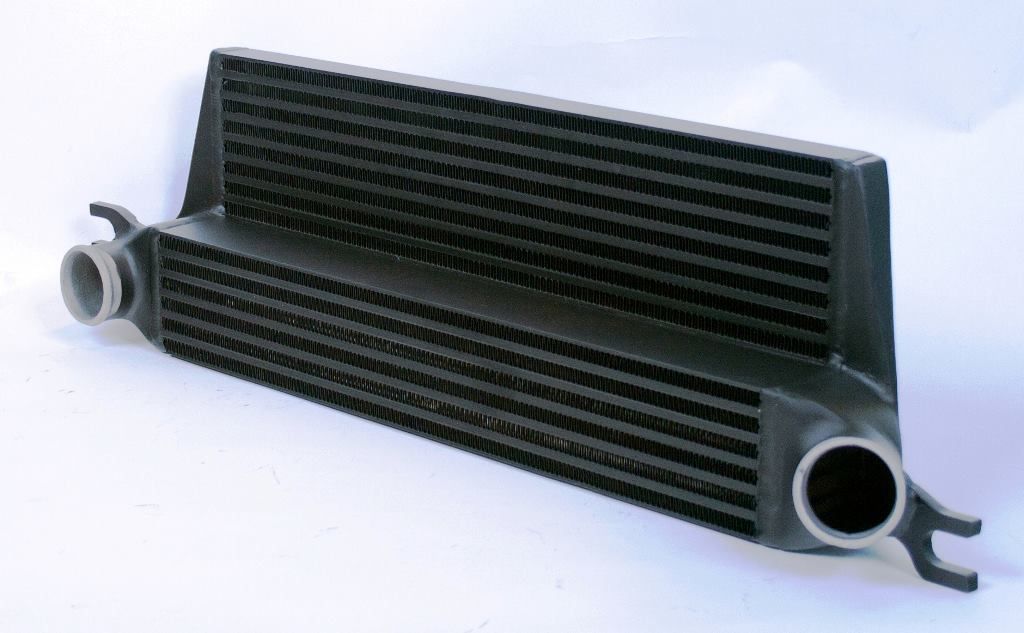 Pre Facelift:
Mini Cooper S R56 (2007-2010) Intercooler Kit from Wagner Tuning
High-performance Intercooler core with turbulators in a stepped design
Size 550x110x90 / 550x210x30, 6435cm³ volume (Std 540x65x85mm, 2984cm³ volume)
Cast aluminum CAD / FEA optimized air tanks
Intercooler uses the original mounting points
~220% larger frontal area compared to OEM intercooler
~110% greater volume than OEM charge air intercooler
Post Facelift:
High-performance network with turbulators in a stepped design
Size 550x110x90 / 550x210x50, 8.745cm ³ volume (Std 540x65x85mm, 2.984cm ³ volume)
Cast aluminum CAD / FEA optimized air tanks
Intercooler uses the original mounting points
~220% larger frontal area compared to OEM intercooler
~280% greater volume than OEM charge air intercooler