DATE:
Sunday 31st July
TIME:
09.00
START:
Colney Fields shopping park AL2 1AB
HALF WAY STOP:
The Chequers Pub SG2 8TH
FINISH:
South Mimms services EN6 3QQ
ROUTE LENGH:
40 miles
ROUTE Duration:
1hr 20 (drive time)
Tunnels/underpasses:
1 long tunnel, 1 short open tunnel, 3 underpasses
Facebook event link:
https://www.facebook.com/events/608494175973447/608497775973087/?notif_t=like&notif_id=1464552262309348
GOING:
-adam-
neilobe
Led sandwich
Andy Redz
JCW-Coupe
Matt Heard
eliaevagora
DrDubya
dramacostin
miniCs
Facebook numbers
: Going 38 Interested 125
Right so i thought i would take on the challenge of creating a Hertfordshire MINI meet & run with tunnels. I've picked a date that doesn't clash with any other shows/meets. After a bit of planning i feel the planned route isn't too bad, I've tried to avoid traffic lights as much as possible. Most of the junctions look to be roundabouts with most of the route consisting of Country lanes. The route involves going through Hatfeild tunnel twice both Northbound & south along with a few other underpasses.
For a central easy to get to start location i've gone for Colney Fields shopping park(AL2 1AB). Just beside the M25 with plenty of parking. Plenty of space to take some good photo's. There is also a Mcdonalds for anyone wanting breakfast.
Around 10am we will set off on the run. its around 40miles long taking around 1hr 20mins. I've set up a halfway point (The Chequers Pub SG2 8TH) which has a big enough car park to accomadate a few cars so we all re-group.
Once were ready to leave we will head back down on the desinated route to finish up at South Mimms services(EN6 3QQ). Plenty of choice for lunch & coffee.
Should be back at South Mimms around 12.30ish.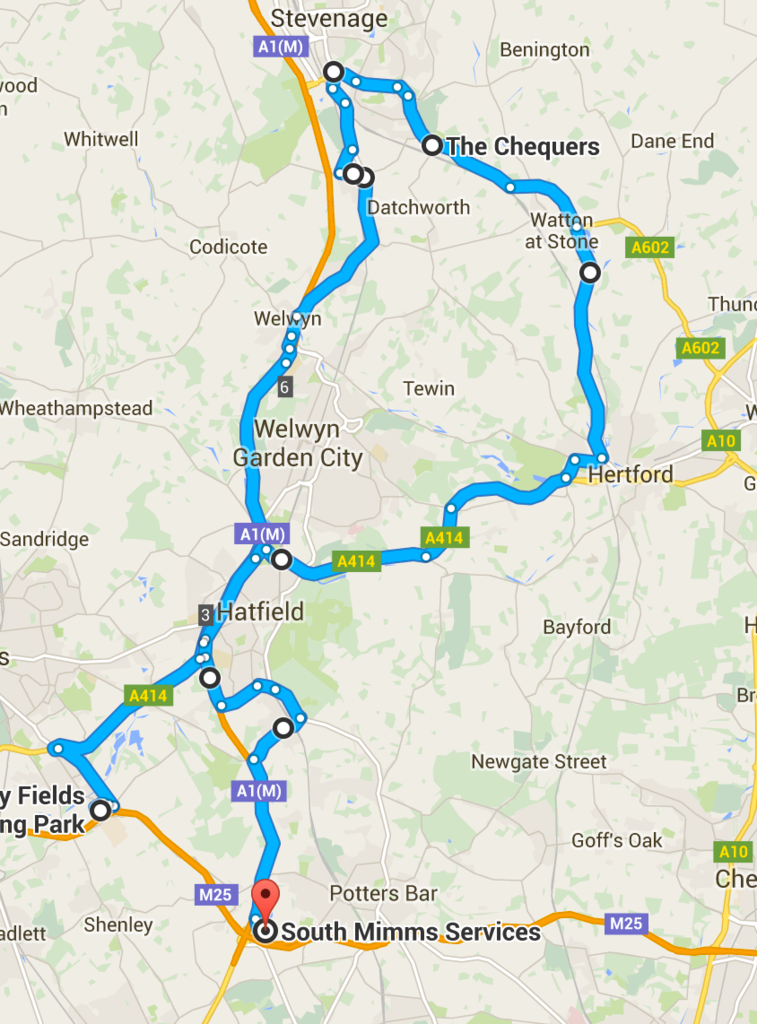 Below are detailed directions of the route:
Leaving Colney fields:
From the Bell roundabout take the first exit on to A1081
Follow 1.3miles all the way to the next roundabout & take the 4th exit on to A414
Follow 3 miles all the way to the next roundabout & take the 2nd exit on to the A1(M)
Follow 5.1miles through the Hatfield tunnel & exit at Junction 6 (Welwyn A1000)
At the roundabout, take the 2nd exit onto Welwyn By Pass Rd/A1000
At the roundabout, take the 2nd exit and stay on Welwyn By Pass Rd/A1000
At the roundabout, take the 3rd exit onto Great North Rd/B197
This will take you under the A1(M)
Stay on this road 2.9miles until the 2nd roundabout
At the roundabout, take the 1st exit onto Station Rd
Across the Mini roundabout & then under the railway bridges Station Rd turns right and becomes Station Approach
Station approach becomes Park lane
After 0.2miles Turn right onto Deard's End Lane
Follow to the end then Turn left onto Stevenage Rd/B197
Follow to the second roundabout 0.8miles & then take the 3rd exit onto Monkswood Way/A602
At the roundabout, take the 3rd exit onto Broadhall Way/A602
Stay on the A602 across 4 roundabouts
Once across the 4th roundabout 2.3miles The chequers pub comes up on the right
Leaving the chequers pub
Turn right towards A602
Follow along 1.4miles & At the roundabout, take the 1st exit and stay on A602 1.4miles
At the roundabout, continue straight onto A119
Follow all the way down 3.9miles & then At the roundabout, take the 2nd exit onto Welwyn Rd/B1000
Across the first roundabout & then At the next roundabout, take the 1st exit onto Thieves Ln
At the roundabout, take the 3rd exit onto A414
Follow all the way to the A1(M) roundabout 3.7miles, take the 2nd exit onto the A1(M) slip road to London/A414/M25/St Albans
Follow through Hatfield tunnel 1.5miles & then At junction 3, take the A414 exit to St Albans/Welham Green
At the roundabout, take the 1st exit onto Roehyde Way/A1001
Follow all the way down to the next roundabout 0.9miles, take the 1st exit onto South Way/A1001 0.7miles
Follow down to the next roundabout, take the 3rd exit and stay on South Way/A1001 0.9miles
Follow down to the next roundabout, take the 3rd exit onto Dixons Hill Rd 1.1miles
Follow the road across the mini roundabout & Turn left onto Swanland Rd the last turn left before crossing the A1(M)
Follow the road for 2.7miles & then At the roundabout, take the 1st exit onto St Albans Rd
We have now arrived at South Mimms services(EN6 3QQ)