FACTORY JCW 2009 BUILD AND TUNING GUIDE / INPUT / EXPLAINED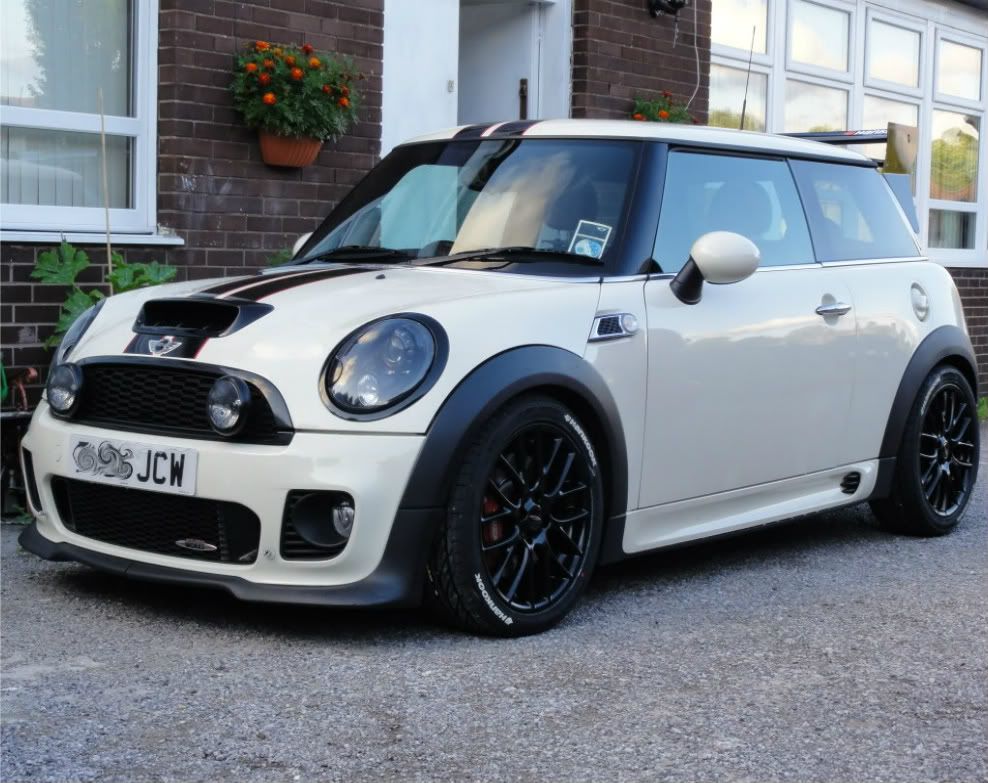 Hi to everyone reading this.
Im making this thread or guide to show what I have done since I bought my car in april 2009. and then I will continue to the current build, that will resume in January 2011.
Im using my archive photos that I have saved over time and not every detail has been saved over time. But most thing heve been recorded and documented.
Ive been a silent member for 2 years and have not really been involved or posted much before. So I thought ill contribute my adding the thread.
Please guys, feel free to comment on what you like and dislike. On any further tips and mods.
The build focues on a 4 main things.
1. aesthetic mods to body and interior.
2. performance mods to engine.
3. performance mods to handling.
4. feedback and testing on all performance mods.
Now for the nitty gritty:
PART 1.
And ill start in chronological order from purschase to now.
Bought car in april 2009.
Specs: mini factory jcw 2009
some quick options: lea lounge red leather interior with red lined trim.
Hifi package, full Bluetooth. Sports suspension. Chrome interior.
Got a call to pick up car. Paid and off I went.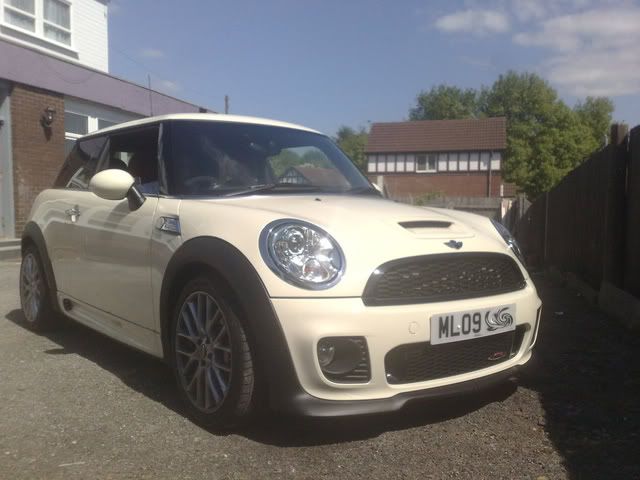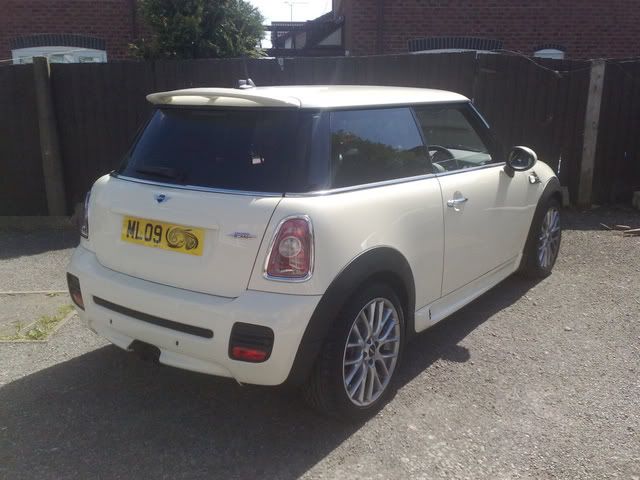 After a few weeks. Was really eager to test the car and see what its made out off.
In the lead up to the bedding in period. I got on the phone to chris at Derek woodmans mini. And ordered a some parts to enhance the image the baby. I had always in my mind of how I want it too look, and went for an aggressive style. With the sports stripes
I also ordered the following:
Jcw strut brace.
Jcw carbon & alcantara gear knob and gaiter
Matching carbon & alcantara jcw handbrake.
Jcw carbon steering wheel insert.
Carbon interior door handles.
Jcw side scuttles.
Front additional lights/fog. With black surround.
And I occupied myself with this whilst I waited.
I also got some black spray paint.
And went about de-chroming most of the chrome. To match the sports stripes and the fog lights. My brother RIZ done the painting and vinyl work. blacked out the headlight rings and the washer lid, also the rear light surrounds. Then I blacked out the bonnet scoop and the rear diffuser.
Blacked the side mirror covers too.
Some may like it and may not. But I love the black accent on a pepper white mini.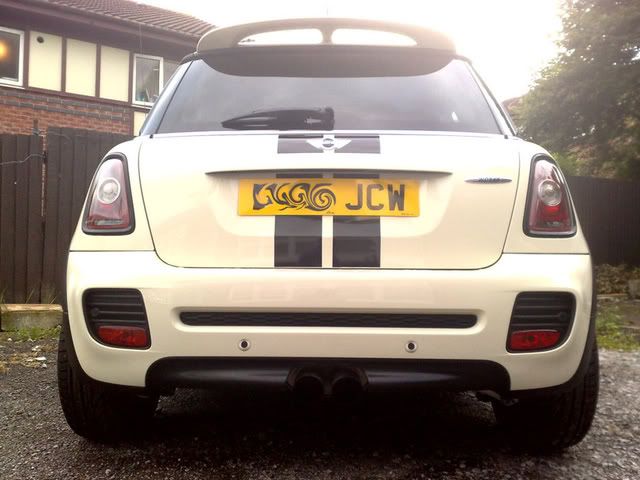 Loving the look of the car now. Really aggressive. Since I was giving the car a black accent. The next step was inevitable. May 2009………
Booked myself in at diamond wheels in stockport. Luckily I didn't curb them yet, so was straight forward powder coated in gloss black. Looks soo cool!!!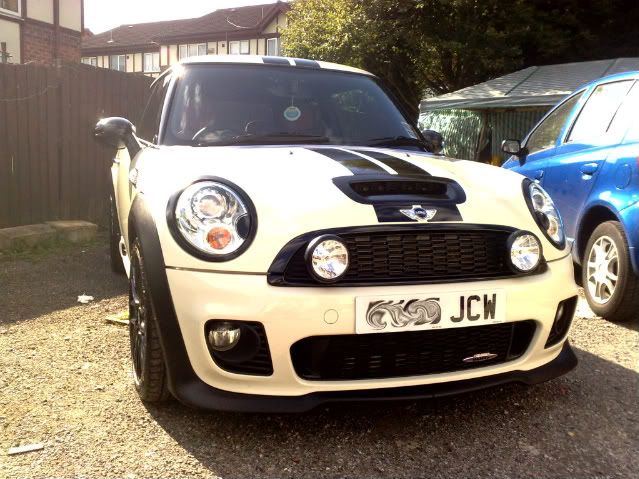 Next had the jcw strut brace installed and in testing Felt a nice difference straight away at higher speeds.
Like on dual carriage ways and country drives.
The transition from left to right was a lot tighter and predictable. Eliminating something like 10% body roll at the front end. A good mod and a must in my books.
After many months of enjoying, learning things about the beast. i was looking at different this to further improve the balance, handling and power of the jcw.
before that......
i decided to take the plunge and do the JOEY mod and RIZ got onto it: approx august 2009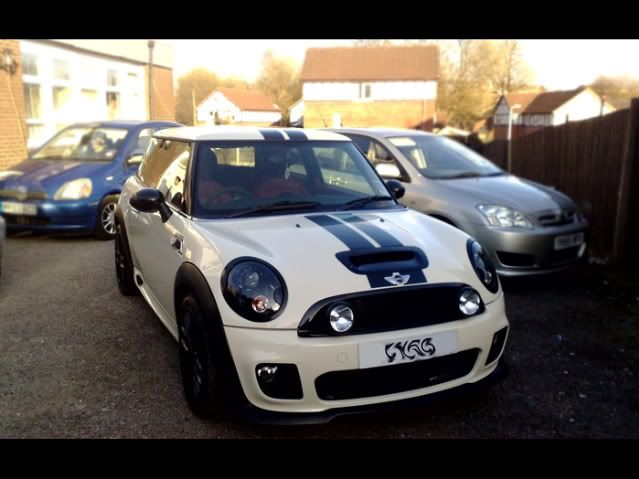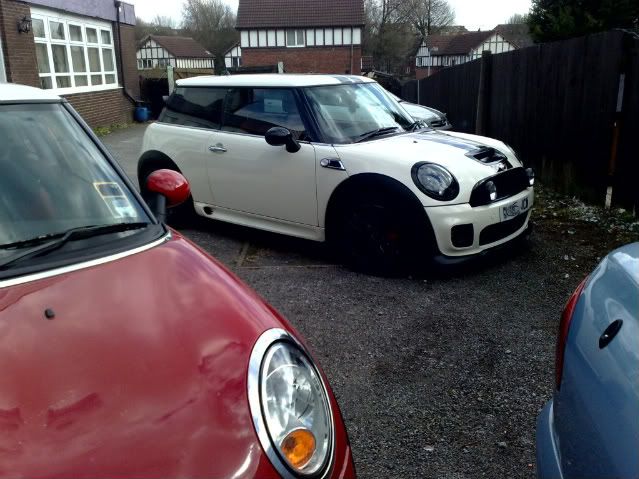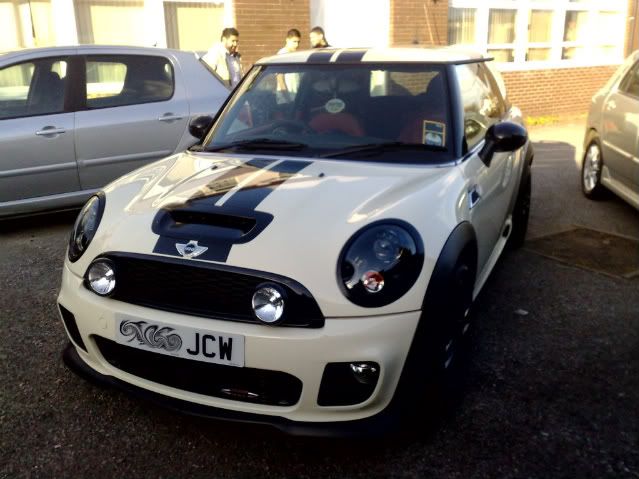 I will continue in updating this thread as I have done more to the car and haven't had the time to do all the write up. If you need further help or advice, please comment. Some modding services may also be available if local.