Finally got round to getting a project thread for my car, here's the starting spec:
Stock Sept 2003 Cooper S 37,800 miles.
- Black II with white roof, mirror caps, bonnet stripes and white S-Spokes.
- Runflats :thumbdown:
- Front Spots
- Body coloured front grille slats + Boot handle
- Factory fitted wheel-gap :tongue_smilie:
Interior:
- Half Leather
- Climate
- Xenons
- HK Stereo
- MFSW
- Cruise Control
Here's a picture of said 'stockness' prior to cleaning.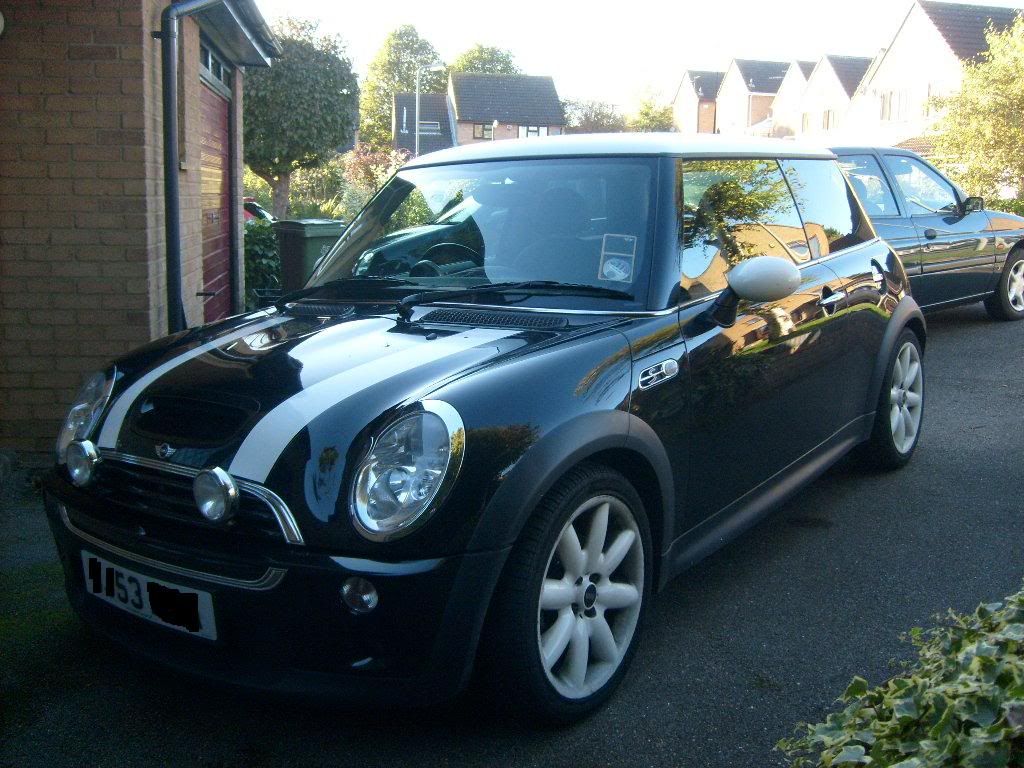 First two modifications I chose to add were the upper OMP brace and removal of bonnet stripes, after managing to actually tighten the brace enough to close the bloody bonnet I was able to take this picture today.
Future plans for the car:
-
(Done)
Alloys + Tyres v. soon - OZ Ultraleggera's with Sessanta Ultra tyres
-
(Done) Meister Rs
Coilovers -
-
(Done)
Removal of 'yolk' side light bulbs
-
(Done)
De-Chromed rear lights
-
(Done)
LED Side lights
- Black mirror caps
-
(Done)
Black Beltline
-
(Done)
Removal of front spots
-
(Done)
Upper OMP Brace
-
(Done)
Lower OMP brace
-
(Done)
Full Titanium Cat-Back
Then later next year with 1320:
- Health Check
(Done)
- GP intercooler
(Done)
- Reduced pulley 17%
(Done)
- Dave, F
(Done)
- Polybushed engine mounts
- wishbone bushes
(Done)
-
(Done)
Drilled/Grooved Disks + Yellow Stuff Pads + ATE SuperBlue
I'm hoping to eventually see 230ish bhp, this list is pretty conservative on what I would do if I had the money :tongue_smilie: I think this is a good point to aim for though.
I welcome your criticism, compliments and piss-taking regarding wheelgap and runflats haha
Cheers,
Dave